---
China Must Pay for the Coronavirus
The CoronaVirus (COVID-19) has wreaked havoc on our nation. Thousands of our citizens are now infected, over one hundred are dead and potentially millions will be out of work..…and they all did nothing wrong.

This virus was the direct result of the incompetence and irresponsibility of the Chinese Government. They showed as much disregard for their own population as they have for ours. The Chinese government threatened their own doctors with penalties and even jail time for sounding the alarm about this pending pandemic. They even ordered some of them, including Dr. Li Wenliang, to write public apologies for publishing "false comments". They should be liable for the damage that they have caused not only to our citizens but to the citizens of all countries that they infected.
For years China has been engaged in a war of theft and plunder of our nation's intellectual property. They stole technology from our industries. They counterfeited them and sold them back to us with cheap labor, destroying millions of our manufacturing jobs. It is time we hold China accountable not only with high tariffs but by unleashing the power of our legal industry in filing massive liability lawsuits against China. Our judiciary should freeze China's assets in the United States pending the outcome of these decisions.

Further investigation should be made into the two virus labs in Wuhan that were actively experimenting with CoronaVirus, one located just 280 meters from the wildlife market where the virus started. One of these labs, Wuhan Institute of Virology, even tried to file a patent on a possible treatment for this virus, Remdesivir, which was already patented and manufactured by Gilead Sciences, an American pharmaceutical company. Gilead is also the inventor of the Tamiflu medicine for influenza. Even during this crisis, China is trying to steal our technology in order to profit at our expense.
China is now trying to blame the US government for starting the virus and threatening to withhold supplies of critical medicines. We must hold China accountable in courtrooms throughout the world and demand reparations not only for the money we lost in this pandemic but also for technology stolen from our industries. Our government should organize and support these efforts. It is the only way the American taxpayer will not be held liable for what may be in excess of a trillion dollars of aid and expense programs required to counter this threat to our nation.
It is time to move manufacturing back to America!
If we become self-reliant as a nation we will emerge from this crisis even stronger than ever.
Brett Kingstone
kingstone@maxkingrealty.com
www.therealwaragainstamerica.com
Footnotes
FULL DISCLOSURE: I own 50 shares of Gilead Sciences stock
PRESS LINKS: A Hand Up to American Citizens in Need. No "Bail-Outs" to Corporations:
The COVID-19 crises should not be used for corporate welfare or "bail-outs". We can loan industries money to help, but they must pay it back. Just like we did in the financial crises.

Our government can also pay the airlines to shuttle much-needed respirators, medical equipment, and staff throughout our country. Empty hotels and cruise ships can also be converted under government contract to hospitals which would dramatically increase the number of existing rooms overnight. This will create jobs and funnel money to industries hit the hardest.
Financial support payments should go directly to middle and working-class Americans who have lost their jobs due to this crisis. They are the only ones who should receive outright grants to preserve their families. We can use the existing unemployment process and payment system to address this rather than trying to create a new system that will take time. W9's and layoff letters from employers can be used to confirm eligibility. We cannot afford another government "aid" program with massive corruption and theft. People who do not need this aid should not get it, certainly not millionaires or people earning over a predetermined level as reported on their 1040 form.
I have been outspoken against government-sponsored corporate welfare payments to support any individual company or industry. This smacks of favoritism and often goes not to the most deserving companies but instead to the companies that pay the most money to lobbyists. This is an unfair redirection of the taxpayer's funds which should be directed to help individual Americans who are worried about putting food on the table and paying their rent.
https://www.bisnow.com/orlando/news/commercial-real-estate/orlando-needs-to-get-out-of-corporate-handout-business-noted-developer-says-74715

https://www.bisnow.com/tags/max-king-realty-ceo-brett-kingstone

I fear that there are many in the government and in the private sector who will try to take advantage of this crisis and burden it with so much pork that our great-great-grandchildren will still be left with paying these bills. We need to be responsible and fair in addressing this issue. An ill-conceived "aid" program can spend out of control. It will only serve to punish our citizens with inflation and a national debt burden that will be even more harmful in the long term than the current crises itself.
We need to make sure that we will have the funds available in the future to deal with another crisis downstream. Therefore we must conserve our capital and limit our debt.
The Real War Against America by Brett Kingstone
---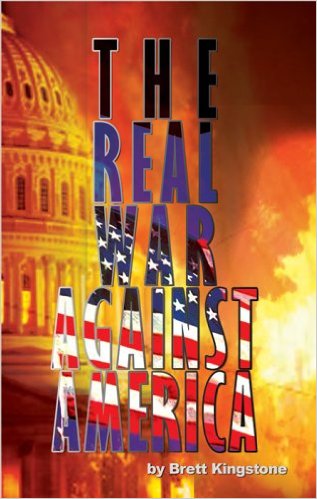 International scandal, undercover private investigators, shredded evidence, intimidation, and theft: all in a day's work for Brett Kingstone, author of "The Real War Against America." Kingstone tells the true story of the company he founded, Super Vision International, and its desperate struggle against Chinese counterfeiters who stole designs, equipment and profits.
When Kingstone learned that the market had been flooded with counterfeit Super Vision products, he started to fight back immediately, protecting the business he started as a 19-year-old Stanford student. With little or no help from the local police, the F.B.I. or the U.S. justice department, Super Vision gathered enough evidence to take the criminals to court with the help of private investigators posing as rich Arab sheiks. But the defendants, their lawyers and their bankers went to extremes to cover up their crimes.
In 2002, Super Vision won a $33 million verdict against the intellectual-property thieves, but Kingstone has yet to see a dime. As one expert testified in court, the defendants wired $28.5 million out of the United States before the trial "using methods consistent with money laundering."
For six years and counting, Brett Kingstone has fought against criminals who many would have simply let get away with what they had done. Kingstone stood up for himself, his company and his country. "The Real War Against America" is a riveting story and an urgent call to arms for every American citizen to fight against terrorists who do not need bullets or bombs to destroy the American dream.
---
Book Reviews
The story of my friend Brett Kingstone tells in The Real War Against America is as good as any spy novel you can pick up….Today intellectual property theft costs American industry an estimated $250 billion a year. And the price tag is rising… The dreams and imaginations of Americans is something worth fighting for. Let s hope we win this battle.

Congressman Ric Keller (R, 8th District Florida), Co-Author of the Intellectual Property Protection Act of 2002 –Congressman Ric Keller
At first, I thought this book was another Tom Clancy techno-thriller, then I realized it was non-fiction — the true story of a dynamic American entrepreneur whose company was under attack by one of China's largest gang of counterfeiters. If any book about global business today should be made into a movie, The Real War Against America is it.

Professor Pat Choate, Author: Agents of Influence, Hot Properties, The High Flex Society and America in Ruins. Director: Manufacturing Policy Project. Former Vice Presidential running mate of H. Ross Perot. –Professor/Author Pat Choate
The story of Brett Kingstone and his company is far more than a high-tech Horatio Alger tale. It is an adventure which should become a case study for every business school candidate to memorize, for here lies a glimpse of the real war and its battles which can be our nation's demise.

Dwight Carey, Professor, Temple University School of Business –Professor Dwight Carey, Temple University
CNN Transcript: The Real War Against America report by Lou Dobbs:
http://transcripts.cnn.com/TRANSCRIPTS/0506/09/ldt.01.html
PRESS LINKS: The Real War Against America:
https://books.google.com/books/about/The_Real_War_Against_America.html?id=Lg5We4HI0VcC&printsec=frontcover&source=kp_read_button
https://www.businesswire.com/news/home/20050329005125/en/Super-Vision-CEO-Writes-Real-War-America
https://www.twst.com/bio/brett-m-kingstone/
https://www.poolspanews.com/business/sales-marketing/the-warrior_o
https://www.bizjournals.com/orlando/stories/1996/11/18/focus1.html
https://hospitality.ucf.edu/wp-content/uploads/sites/2/2019/04/Brett-Bio-Security-Profile-2017.pdf
https://patents.justia.com/inventor/brett-m-kingstone
https://www.abebooks.com/Real-Against-America-Brett-Kingstone-Specialty/22854234494/bd
https://www.goodreads.com/book/show/1195627.The_Real_War_Against_America
https://www.amazon.in/Brett-Kingstone/e/B001HPV6YQ%3Fref=dbs_a_mng_rwt_scns_share
https://www.livedesignonline.com/mag/glow-achievement-brett-kingstone-builds-super-vision-one-project-time
https://books.google.com/books?id=BI7YzdRxDV8C&pg=PA122&lpg=PA122&dq=brett+kingstone&source=bl&ots=ISLiXNKndE&sig=ACfU3U2ufwFP-5S6YOP2dMpJprYqdnhQfQ&hl=en&sa=X&ved=2ahUKEwiOiYLmwqboAhVDn-AKHSclC3E4KBDoATAGegQICRAB#v=onepage&q=brett%20kingstone&f=false
https://books.google.com/books/about/The_student_entrepreneur_s_guide.html?id=Gw4PAQAAMAAJ
https://mobile.channelinsider.com/c/a/Commentary/Protecting-Your-Country-While-Protecting-Your-Clients-698867
https://www.amazon.it/Dynamos-Who-Are-They-Anyway/dp/0471858277
https://www.securitymagazine.com/articles/86799-security-leaders-shared-challenges-solutions-at-2015-security-500-conference
https://search.books.com.tw/search/query/key/Kingstone%2C+Brett/adv_author/1/
https://www.manufacturing.net/home/article/13055847/economic-terrorism
https://www.thesecurityminute.com/lean-mean-and-targeted
https://taosecurity.blogspot.com/2008/11/intellectual-property-develop-or-steal.html?m=1
https://www.research.msstate.edu/rresources/news.php?id=898
PRESS LINKS: B&M Kingstone v Mega Bank (aka International Commercial Bank of China):
https://news.bloomberglaw.com/banking-law/subpoena-to-ny-branch-has-worldwide-reach
https://www.constructionlawny.com/blank
https://law.justia.com/cases/new-york/appellate-division-first-department/2015/158577-14.html
https://law.justia.com/cases/new-york/other-courts/2019/2019-ny-slip-op-30896-u.html
https://casetext.com/case/b-amp-m-kingstone-llc-v-mega-intl-commercial-bank-co
https://casetext.com/case/bm-kingstone-llc-v-mega-intl-commercial-bank-ltd-1
https://casetext.com/case/bm-kingstone-llc-v-mega-intl-commercial-bank-ltd-2
https://www.google.com/amp/s/www.casemine.com/judgement/us/5a826e93add7b03b016c0fdf/amp
https://www.federalreserve.gov/newsevents/pressreleases/enforcement20180117a.htm
https://www.dfs.ny.gov/reports_and_publications/press_releases/pr1608191
https://www.google.com/amp/s/mobile.reuters.com/article/amp/idUSKBN1F6339
https://www.taiwannews.com.tw/en/news/3344183
https://www.kirkland.com/-/media/publications/alert/2016/11/english-new-york-state-department-of-financial–se/nydfs_fines_megabank_eng.pdf
https://caselaw.findlaw.com/ny-supreme-court-appellate-division/1710276.html
https://www.google.com/amp/s/www.csmonitor.com/layout/set/amphtml/2005/0526/p02s01-usfp.html
https://en.m.wikipedia.org/wiki/Mega_International_Commercial_Bank
https://www.fdic.gov/regulations/reform/resplans/plans/mega-165-1612.pdf
https://www.google.com/amp/s/nypost.com/2016/08/19/bank-linked-to-panapa-papers-hit-with-180m-laundering-fine/amp/
https://www.complianceweek.com/mega-bank-fined-180-million-for-aml-violations/10449.article
http://www.taipeitimes.com/News/front/archives/2018/01/19/2003686031
http://annx.asianews.network/content/mega-bank-chairman-resigns-amid-money-laundering-scandal-26925